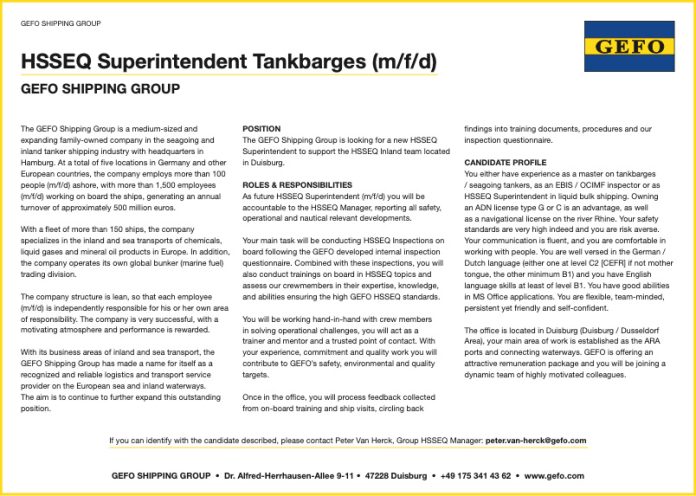 GEFO Shipping Group
HSSEQ Superintendent Tankbarges (m/f/d)
The GEFO Shipping Group is a medium-sized and expanding family-owned company in the seagoing and inland tanker shipping industry with headquarters in Hamburg. At a total of five locations in Germany and other European countries, the company employs more than 100 people (m/f/d) ashore, with more than 1,500 employees (m/f/d) working on board the ships, generating an annual turnover of approximately 500 million euros. With a fleet of more than 150 ships, the company specializes in the inland and sea transports of chemicals, liquid gases and mineral oil products in Europe. In addition, the company operates its own global bunker (marine fuel) trading division. The company structure is lean, so that each employee (m/f/d) is independently responsible for his or her own area of responsibility. The company is very successful, with a motivating atmosphere and performance is rewarded. With its business areas of inland and sea transport, the GEFO Shipping Group has made a name for itself as a recognized and reliable logistics and transport service provider on the European sea and inland waterways. The aim is to continue to further expand this outstanding position.
Position
The GEFO Shipping Group is looking for a new HSSEQ Superintendent to support the HSSEQ Inland team located in Duisburg.
Roles & Responsibilities
As future HSSEQ Superintendent (m/f/d) you will be accountable to the HSSEQ Manager, reporting all safety, operational and nautical relevant developments. Your main task will be conducting HSSEQ Inspections on board following the GEFO developed internal inspection questionnaire. Combined with these inspections, you will also conduct trainings on board in HSSEQ topics and assess our crewmembers in their expertise, knowledge, and abilities ensuring the high GEFO HSSEQ standards. You will be working hand-in-hand with crew members in solving operational challenges, you will act as a trainer and mentor and a trusted point of contact. With your experience, commitment and quality work you will contribute to GEFO's safety, environmental and quality targets. Once in the office, you will process feedback collected from on-board training and ship visits, circling back findings into training documents, procedures and our inspection questionnaire.
Candidate Profile
You either have experience as a master on tankbarges / seagoing tankers, as an EBIS / OCIMF inspector or as HSSEQ Superintendent in liquid bulk shipping. Owning an ADN license type G or C is an advantage, as well as a navigational license on the river Rhine. Your safety standards are very high indeed and you are risk averse. Your communication is fluent, and you are comfortable in working with people. You are well versed in the German / Dutch language (either one at level C2 [CEFR] if not mother tongue, the other minimum B1) and you have English language skills at least of level B1. You have good abilities in MS Office applications. You are flexible, team-minded, persistent yet friendly and self-confident.
The office is located in Duisburg (Duisburg / Dusseldorf Area), your main area of work is established as the ARA ports and connecting waterways. GEFO is offering an attractive remuneration package and you will be joining a dynamic team of highly motivated colleagues.
If you can identify with the candidate described, please contact Peter Van Herck, Group HSSEQ Manager: peter.van-herck@gefo.com
GEFO Shipping Group
Dr. Alfred-Herrhausen-Allee 9-11
47228 Duisburg
+49 175 341 43 62
www.gefo.com